Let's talk Biebs. I mean... he's of age now, right?
I mean...I like it. There. I said it. It's got a good beat and he's looking pretty (not 18) cute. (Okay, kind of 18...)
Can we talk about the tattoo that we can see in most of the shots? Yep. Okay, when did that happen? I like a boy with tattoos.
But the beat is good right? Am I losing my mind?
Can we talk about one more other thing? This part of the video...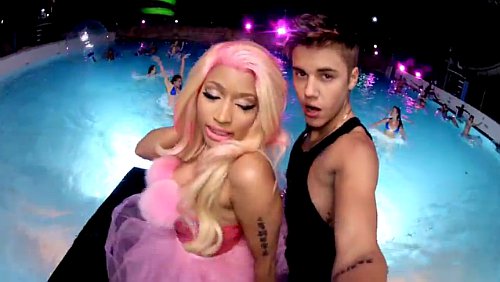 It makes me feel dirty. Seriously makes me feel like they are dry humping on stage. I mean, when this was filmed he was with Selena right?! Oh, and the lyrics...
Justin.. Bieber, you know Imma hit 'em with the ether
Buns out, weiner, but I gotta keep an eye out for Selena
WHO SAYS THAT!? Um, the W word should be beeped out on the radio version. Is it? Please tell me it is. My 7 year old goddaughter best be not going around saying the W word.
Also, who finds it rather amusing that J and S break up a couple of weeks after this song is out. Guess Nicki doesn't have to keep her eye out for Selener.
Oh, can we discuss how JBiebs keeps grabbing his crotch?
Lezbihonest, just because Michael Jackson did this doesn't mean it is alright for you to do it.
I said I was almost a Belieber. I won't change the song if it comes up on my KISS FM, but I am not fangirling over him either. I am still fangirling over the return of BSB. I mean, at least they are Nick is my age!