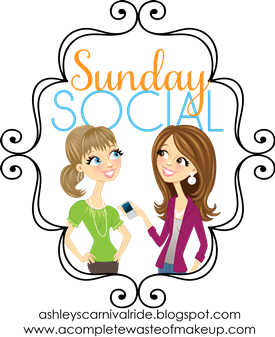 1. What were you like in Middle School/HS?(pictures)
Middle school was an awkward time. I barely got dressed and never got out of PJ pants. There is no documentation of this. Thank God.
But High School, that's when I came out of my shell.
I was on Yearbook and my life was taken over by theatre. I was part of makeup crew and took over my senior year as head makeup girl. My senior year I was in charge of the whole play that was based on 50's makeup.
2. What were your favorite past times?
I lived at this place in my town called The Warehouse. It was a venue that hosted bands and was alcohol free. This is where I spent most of my free time (when I wasn't doing theatre)
This is where I found my love of traveling with bands. (No, I wasn't a groupie.)
3. What songs were you obsessed with?(Backstreet Boys anyone?)
I was obsessed with O-Town my freshman year. I waited 28 hours in line for front row tickets to their concert.
I also was obsessed with Backstreet Boys. Not as bad as in middle school, but I did (and do) still love them.
In High School,
Mostly I was obsessed with the bands that I hung out with/saw at the hometown venue.
Oh, and All American Rejects. Oh, Tyson Ritter.
4. What fashion statement do you look back on and cringe?
Middle School- Those tattoo necklaces, scrunchies, platform shoes...
High School- Those t-shirts with sayings on them, skinny jeans...
5. Who was your celeb crush?
Marty West, yeah, you don't know who he is do you? He was on Guiding Light. I was in love with him.
Oh, and then obvi AJ Mclean and Adam Brody.
Middle school was all about BSB...
oh, rolling stone cover circa 1999...
6. What were your favorite tv shows/movies?
The OC (planned my life around it...) TGIF, Guiding Light...
Scream, I Know What You Did Last Summer, She's All That, Ten Things I Hate About You...
It's crazy to think that this was over 7 years ago now....
my 18th birthday with my two bff's Maggie and Lauren.
How about you? Did you have an unhealthy obsession with a boy band? Do tell so I feel better about being so obsessed...